Provider Manual
This section covers the basics of how to file claims, most common claim issues and how to correct them. Billing information submitted to QualChoice is used for claims payment, as well as member and physician/provider profiling. It is essential that complete and accurate information be submitted as indicated in this section.
Acceptable Claim Format
We encourage providers to submit claims electronically. Electronic claims submission is fast, accurate, and reliable and is available 24 hours a day, seven days a week. If complete information is provided, electronic claims are typically processed seven to 10 days faster than paper claims.
Electronic claims submitted to QualChoice must be in ANSI X12N 837 5010 format. The QualChoice Payer ID is 35174. In January 2012, all HIPAA-covered entities adopted the American National Standards Institute (ANSI) 5010 to promote increased use of electronic data interchange (EDI) transactions between all covered entities. ANSI 5010 is the foundation of health information technology (HIT) and a necessary step to the upcoming conversion to ICD-10. Visit the ANSI 5010 section of the Centers for Medicare & Medicaid Services website for materials and resources.
Electronic and paper claims must be submitted using an industry-standardized form:
CMS-1500 Claim Form—for use by physician and non-institutional providers
The standardized red/white form must be used. Make sure that your claim software supports the CMS-1500 Claim Form (08-05). For specific details on completing this form, review the 1500 Reference Instruction Manual at nucc.org.
UB-04 Claim Form—for use by institutional providers
UB-04 is printed with special OCR (optical character recognition) paper and OCR ink so scanners are able to read what is printed on them, making processing claims faster. If the information is not lined up properly in the printer or if the print is too light, the claim may fail the automated process and be delayed or returned to the provider. For specific information on the UB-04 Claim Form, subscribe to the UB-04 Data Specifications Manual at nubc.org.
Important! Handwritten paper claim forms cannot go through the OCR scanning process and will be rejected.
Claims Submission Requirements
Member Eligibility
Member eligibility and benefits can be obtained at QualChoice.com after provider log-in* or by calling the Customer Service number on the front of the member's ID card and utilizing the interactive voice response (IVR) menu options. You can also speak directly to a Customer Service representative during our normal business hours (Monday through Friday, 8:00 a.m. to 5:00 p.m.).
*For information on how to obtain your QualChoice User ID and password, click here.
The provider is responsible for requesting the member's most current QualChoice ID card and for properly submitting claims. It is the member's responsibility to provide their current QualChoice ID Card to the provider. If the member fails to provide their ID Card following a request by the provider, liability for all charges will revert to the member.
Note: The ID card is for identification purposes only and does not guarantee eligibility. Eligibility must be verified every time services are received. QualChoice provides eligibility information based on data received from the employer group as of the date of verification. Final determination of eligibility and benefits will be at the time of claim processing. Non-eligibility will result in member liability for charges incurred.
PCP Requirement
Starting January 1, 2017 QualChoice individual metallic plan (Bronze, Silver, Gold, Platinum and Catastrophic) members, as well as those with insurance through HealthCare.gov or Arkansas Works, will be in the Select network and will be required to choose a PCP. These members will have a unique QualChoice ID card to help you identify them: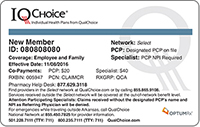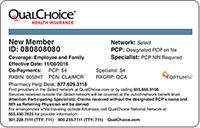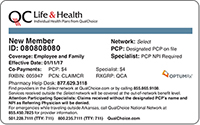 Members who do not choose a provider will be assigned one. Rosters of newly assigned members will be available through My Account* under the Provider Reports tab.
Providers are required to submit the member's PCP name and NPI when billing for services with Place of Service Codes (POS) codes 11, 12, 17, 19, 22, and 24.  PCP name and NPI are NOT required for POS codes 20, 21, 23, 51, 52, 81.
Specialist Claim Filing for Individual Metallic Plan Members
| | |
| --- | --- |
| POS Codes: 11, 12, 17, 19, 22 | Must submit referring PCP name and NPI # |
| POS Codes: 20, 21, 23, 51, 52, 81 | Not required to submit referring PCP name and NPI #  |

When to File a Claim
Whether QualChoice is the primary or secondary carrier, claims must be submitted within the timely filing time frame specified in the Provider's Agreement. QualChoice is under no obligation to pay claims received past this specified time frame and the member cannot be balance billed for claims denied due to late submission.
Complete/Clean Claims
QualChoice processes complete/clean claims in accordance with state and federal requirements. Complete/clean claims are claims that have been submitted in industry-standard electronic formats with all required fields accurately entered or on industry-standard paper claim forms and are legible, with all required fields completed accurately.
Splitting Claims
QualChoice only accepts one member and one provider per claim. Providers should submit all codes for one place of service on one date of service for payment on one claim. Providers should not submit multiple claims for payment for the same date of service by splitting the codes billed on separate claims. Splitting the claims may cause the claim(s) to pend for manual processing and possibly delay payment.
Electronic Claims Submission
Submitting claims electronically is the most efficient way to process claims payment. Electronic claims must be HIPAA-compliant in ANSI X12N 837 5010 format. The QualChoice Payer ID is 35174.
Getting Data to the Clearinghouse
If your Practice Management (PM) software vendor is interfaced with a medical claims clearinghouse then the PM vendor will transmit the claim files and support the EDI reports you receive from the clearinghouse and QualChoice. This is the simplest way of working with a claims clearinghouse.
What is ANSI?
ANSI stands for American National Standards Institute. An ANSI segment includes the City, State and Zip Code (for example: *LITTLEROCK*AR*72211). Groups of Segments are tied together to create an ANSI message. The clearinghouse converts medical claims into an ANSI message that gets submitted electronically to QualChoice. Other ANSI messages are eligibility, claim status, prior authorization inquiries, etc. Because ANSI messages are hard to read clearinghouses convert these into reports.
What is EDI?
The fastest way to conduct business with us throughout the entire claims process is the electronic data interchange (EDI) — the computer-to-computer transmission of standardized information.
QualChoice accepts electronic medical claims from Emdeon and from Availity, LLC. At present, claims from other clearinghouses are not accepted. However, other clearinghouses can forward claims to Emdeon or Availity. To transmit your claims to us, contact your office software support representative letting them know you want to begin transmission of claims to QualChoice Payer ID 35174
Emdeon and Availity accept claims filed in National Standard Format (NSF) as well as ANSI X12 837 5010 format. The formatting requirements for each are different. Please contact your software vendor if you do not know which format your office uses. All NSF claims are converted to 837 5010 format by Emdeon and Availity before they are transmitted to QualChoice.
Below are the most current 837 formatting positions for vital claims information.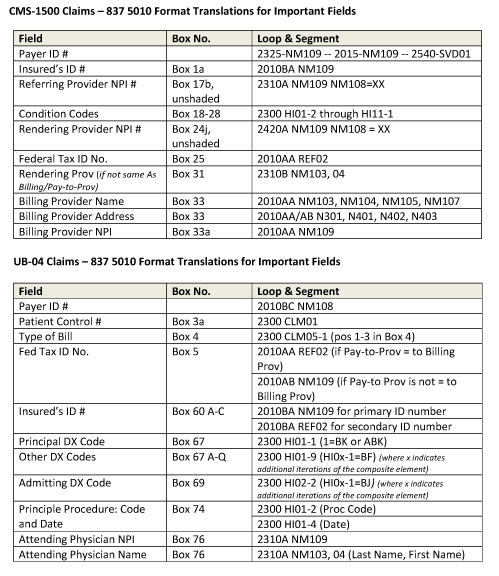 EDI Reports
Software vendor reports only show that the claim left the provider's office and either was accepted or rejected by the vendor. Your software vendor report does not confirm claims have been received or accepted at the clearinghouse or by us. Acknowledgement reports show you the status of your electronic claims after each transmission. By analyzing these reports, you will know if your claims have reached us for payment or if claim(s) have been rejected for an error or additional information. Providers MUST review their reports and the clearinghouse acknowledgement reports to minimize processing delays and timely filing penalties for claims that have not reached us.
How to Receive Reports
Your software vendor is responsible for establishing your connectivity to our clearinghouse and will instruct you on how your office will receive clearinghouse reports. These reports are returned after each transmission. It is very important that clearinghouse reports are reviewed and worked after each transmission. These reports should be kept if you need documentation for timely filing later. Specific questions about report frequency, report transmission methods and data definitions should be directed to your EDI vendor.
Electronic Funds Transfer
EFT (Electronic Funds Transfer) is now required. If you are not receiving payments from us through EFT, please register today to avoid future delays to your claim payments. For additional information, click here.
Electronic Remittance Advice
ERA (Electronic Remittance Advice) offers an automated process for providers who accept auto posting transactions through a vendor, billing agency or clearinghouse. Upon enrollment, ERA replaces paper version of explanation of remittance. To enroll, complete 835 sign-up form. Activation can take 30-60 days.
Paper Claims Submission
Providers are encouraged to file claims electronically for faster and more accurate claims payment. If submitting claims electronically is not a viable alternative, paper claims must be submitted on CMS-1500 (for physician and non-institutional providers) or UB-04 (for institutional providers).
OCR (optical character recognition) is used for all paper claims. It is important to follow the guidelines below to ensure the claim is not rejected by the OCR system. If the claim is rejected due to an OCR reading issue, the claim is returned to the provider. To submit a paper claim to QualChoice, please refer to the address on the back of the member's ID card.
NOTE: Secondary claims and corrected claims can only be submitted on paper and must include a copy of the primary EOB. Please submit with Request for Reconsideration form.
Paper Claim Guidelines
The print or font should be:
Legible (change typewriter ribbon/PC printer cartridge frequently, if necessary. Laser printers are recommended.)
In black Ink
Courier 10-point type (if possible). Do not mix fonts.
CAPITAL letters are preferred
The font must NOT be:
Script, italics or stylized
In red ink
A dot matrix font
Do NOT:
Use liquid correction fluid or a highlighter or black out data
Have data touching box edges or running outside of numbered boxes (Left justify all information.)
Use more than six service lines per claim (Use a new form for additional services.)
Use narrative descriptions of procedure, narrative description of modifier or narrative description of diagnosis (the CPT, Modifier or ICD-9-CM codes are sufficient). NOTE: ICD-10-CM (tenth revision) is scheduled to replace the ICD-9-CM in 2015. An ICD-10 web page explains the recommended steps to plan and prepare for this new system.
Use stickers or rubber stamps (such as "corrected billing," provider name and address, etc.).
Use special characters (i.e., hyphens, periods, italics, parentheses, percent signs, dollar signs and ditto marks). For example, dollar amounts would read 145 29 instead of $145.89
Use handwritten descriptions or write on the claim form. If an error occurs, please complete a new claim form.
Punch holes in, fold, tape, or staple the claim form
Submit attachments smaller than 8 ½"x 11"
The claim form must:
Be submitted on the standardized CMS-1500 and/or UB-04 form. OCR cannot read photocopies or faxes.
Have all required fields completed.
Enter date fields in the MMDDYY or MMDDYYYY format. Example: For a member born on February 28, 1960, the entry would be: 02281960.
Enter name fields without titles (such as Mr. or Mrs.). Enter last name first, then a comma, then first name. For example enter Mr. Mark O'Neil Jr. as ONEIL, MARK.
Be aligned carefully so that all data falls within the spaces on the form. All line-item information must appear on the same horizontal line. Claims not properly aligned will be returned.
Be 8½" x 11" with the printer pin-feed edges removed at the perforations
Clean and free from stains, tear-off pad glue, notations, circles or scribbles, strike-overs, crossed-out information or whiteout.
Timely Filing
Claims must be submitted and received by QualChoice in accordance with the time frames outlined in the Provider Agreement. Claims that do not meet timely filing requirements will be denied.
If the provider discovers that a claim is not on file, it is the provider's responsibility to ensure information is verified or obtained and to resubmit the claim before the timely filing period expires. If a claim is returned to the provider for additional information, the claim must be resubmitted before the timely filing period expires. Claims submitted after the expiration of the timely filing period will be denied as "not allowed — do not bill the member."
QualChoice will accept and process a claim beyond the timely filing limit if the provider can produce, within a reasonable time frame, documentation that the claim was submitted timely and that timely attempts were made to verify the claim was received by QualChoice. The following are acceptable forms of verification:
Electronic Claims
Provide an Acceptance Report from EDI vendor verifying claims were filed timely and show demonstration of timely follow-up.
Follow up should be 45 days from date of claim submission, but no less than 60 days to indicate a timely follow up.
Paper Claims
Documentation from computer-generated accounting software (i.e., transaction report, electronic data batch report, patient's payment ledger, accounts receivable report) that reflects the aging of a specific claim. Note: A hand-stamped bill with a particular date of submission but no other documentation is not sufficient evidence of prior submission.
Documentation of attempts to verify claims receipt and/or resubmissions of the claim. The documentation must: (1) reference the date the information was obtained; (2) the name of the QualChoice staff member or mechanism used (in the case of verifying claims online, screen prints would be advisable); (3) who provided the information; and (4) the date the claim was resubmitted.
Follow-up should be 45 days from date of claim submission, but no less than 60 days to indicate a timely follow up.
Timely Filing of Appeals
Timely filing of appeals must be submitted on our Request for Reconsideration form.
ClaimCheck Review
QualChoice utilizes ClaimCheck®, a state-of-the-art clinical editing system to ensure accuracy in our claims adjudication process, as well as to detect and deter fraudulent billing.
ClaimCheck has very strict edits on procedure versus modifier. If the modifier is not valid for the procedure, the claim line will be denied. All ClaimCheck clinical edits are reflected on the RA.
Providers who disagree with a clinical edit decision may send a corrected claim with the appropriate modifier or request a review of the claim by submitting the Request for Reconsideration form along with any relevant supporting documentation within 180 days of the date of the RA unless state or federal law or the Provider Agreement require another time period. The Medical Director will review the documentation for appropriateness and send the determination to the provider.
ClaimCheck® is a registered trademark of McKesson HBOC.
Clear Claim Connection
Clear Claim ConnectionTM is an online tool for evaluating clinical coding information. CCC enables providers to access the editing rules and clinical rationale existing in McKesson's ClaimCheck product.
This tool will help you:
Prospectively access the appropriate coding, coverage and supporting clinical edit clarifications for services before claims are submitted, resulting in increased first pass payment rate and decreased accounts receivable days.
Proactively determine the appropriate code or code combination representing the service for billing purposes, thereby educating your office staff regarding accurate billing.
Retrospectively access the coverage status and clinical edit clarifications on a denied or reduced claim after your Remittance Advice (RA) has been received.
Reduce the work effort, cost and time involvement of inquiries and appeals.
Decrease your overall administrative costs associated with claims filing.
NOTE: Claims with modifier 59 are manually reviewed. Use of modifier 59 in CCC will NOT provide accurate information.
To access CCC, sign in to My Account with your User ID and Password. NOTE: For information on how to obtain your QualChoice User ID and password, click here.
Clear Claim ConnectionTM is a trademark of McKesson. 
Claim Rejections or Delays
Rejected claims are claims with invalid or required missing data elements, such as the provider Tax ID number or the member ID number, that are returned to the provider or EDI vendor. Rejected claims are not registered in the claim processing system and are to be resubmitted as a 'new' claim.
Common causes of rejections or delays include:
Unable to Read
If the OCR scanner cannot read a claim due to light ink or information not within the form fields due to improper alignment, the claim is returned to the submitting provider for a clean, legible copy.
Missing Information
Claims are denied when information is missing from REQUIRED fields.
Insured's ID Missing or Incorrect
Verify that the ID number on the claim is the insured's Social Security number or six-digit randomly generated number followed by the two-digit member suffix. The patient name must exactly match what is on the insured's ID card. Do not use nicknames or initials unless they are on the ID card.
Provider ID Missing or Invalid
The provider ID must be 11 digits and located in the correct field. If this is an electronic submission, Emdeon will reject the claim with the error message "Render Network ID for Payer" without submitting the claim to QualChoice. If you file claims with your Tax ID Number instead of your QualChoice provider number or vice-versa, claims may be rejected out of QualChoice's system. Filing with your NPI number is preferred by QualChoice, along with or in place of the 11-digit QualChoice ID number. Providing both numbers assures a higher probability of a first-time match and faster adjudication.
Codes Missing or Invalid
Typical examples include Place of Service, Type of Service, or alpha characters in numeric fields.
Diagnosis, Procedure or Modifier Codes Invalid or Missing
Coding from the most current coding manuals is required in order to accurately complete processing. All applicable diagnosis, procedure and modifier fields must be completed.
Duplicate Charges
If a provider resubmits the same claim without any changes or corrections, the resubmission will cause a duplicate claim error. Before resubmitting a claim, please check the claim status through our Claims Center behind the provider log-in page.
Pre-Authorization Missing
All services requiring pre-authorization must be authorized prior to the delivery of services. Valid authorization numbers must be indicated on the claim form.
Timely Filing Not Met
All claims for services must be submitted within the time frame defined in the Provider Agreement to be eligible for reimbursement. NOTE: The member cannot be billed if the provider fails to file a claim within the required time frame.
Additional Information
Failure to return any additional information requested in a timely manner may result in a denial.
Corrected Claims 
A corrected claim is any claim processed by QualChoice and resubmitted with additional information that changes the way the claim was initially processed, regardless of whether the claim was initially paid or denied.
File Corrected Claims Electronically
QualChoice accepts and prefers electronic corrected claims. Turnaround time is much quicker than filing corrected claims on paper.

A corrected claim is one that has been processed, whether paid or denied, and was refiled with additional charges, a different diagnosis, or any information that would change the way the claim was originally processed. Indicating "Corrected Claim" on the claim form if not previously processed will cause a delay in claim adjudication. 

Claims returned for additional information are NOT to be refiled as corrected claims. These claims have been processed; additional information is needed to finalize payment. 

New Claims
Appeals
Medical Records
Invoices
Inquiries
Adjustments
Corrected Claim Guidelines  Share these guidelines with your electronic vendor: 

I ANSl-837P (Professional) 
Both items listed below must be completed to be considered a corrected claim.

In the 2300 Loop, the CLM segment (Claim Information), CLMOS-3 (claim frequency type code) must indicate one of the following qualifier codes: 
7 - REPLACEMENT (Replacement of Prior Claim) 
8 - VOID (Void/Cancel of Prior Claim)
In the 2300 Loop, the REF02 segment (Original Reference Number (ICN DCN)) must include the Original Claim Number issued to the claim being corrected. The original claim number can be found on your Remittance Advice.
I ANSl-8371 (Institutional) 
Both items listed below must be to be considered a corrected claim.

In the 2300 Loop, the CLM segment (Claim lnformation),the CLMOS-3 (Claim Frequency Type Code) must indicate the third digit of the Type of Bill being sent The third digit of the Type of Bill is the frequency and can indicate if the bill is an Adjustment, a Replacement or a Voided claim as follows:
7 - REPLACEMENT (Replacement of Prior Claim)
8 - VOID (Void/Cancel of Prior Claim)
In the 2300 Loop,the REF02 segment (Original Reference Number (ICN/DCN)) must include the Original Claim Number issued to the claim being corrected. The original claim number can be found on your Remittance Advice. 
Rejected claims are to be resubmitted as new claims and not as 'corrected' claims. Rejected claims are returned to the provider prior to being processed which means there is no 'original' claim to correct against.