Coming Soon — ECHO Health EFT Provider Payment System
Electronic Funds Transfer (EFT) is required for all QualChoice participating providers. Beginning in early January, EFT will be through ECHO Health, Inc. If you are not already registered with ECHO Health, please sign up now by calling 844.586.7463 or email Change Healthcare.
If you already use Echo Health for other EFT transactions you'll be able to sign in at Change Healthcare to see your QualChoice payments.
For questions about payment options, please contact ECHO Health at 844.586.7463.
Save Time with AutoAuth Pre-authorizations
Get pre-authorization with MCG Cite AutoAuth for these inpatient surgical procedures, and for more procedures to come:
Spine, Joint Replacements and Fractures
Cardiovascular, Thoracic and Pulmonary
Gastroenterology
Urology
AutoAuth also accepts Home Health requests. Up to 20 Home Health visits may be authorized online.
With AutoAuth, you receive immediate authorization and confirmation—and you can print your approval letter directly from the online service! There are also training materials, which we have updated using valuable provider feedback to include these topics:
Adding CPT codes
Documenting clinical information
Reviewing and editing your request
The system and training materials are easily accessed through the My Account provider portal at QualChoice.com. Register your pre-authorization staff today if you haven't already!
No Out-of-State Coverage for Individual Metallic Members in 2018
Non-emergency services provided outside the QualChoice service area for Individual Metallic Members will require pre-authorization in 2018. This means elective services by out-of-network providers outside Arkansas will not be covered by the member's policy.
Identify QualChoice Individual Metallic Members by these Select Network example ID cards: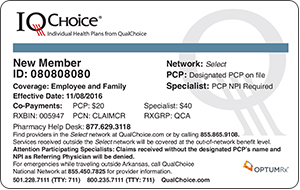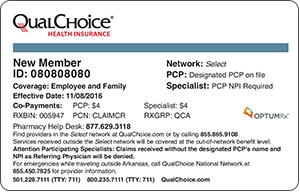 Before making elective service referrals for these members, please check the QualChoice provider directory and refer these members to providers in the Select Network only. If the service is not available from a Select Network provider, you may request pre-authorization and a referral by contacting QualChoice Care Management at 800.235.7111, ext. 7014.
NOTE:  These limits do not apply to emergency services or out-of-area dependents.
Changes to Imaging Coverage Under Consideration
QualChoice is evaluating freestanding imaging centers as alternatives to hospital outpatient departments. The goal is to provide members with access to safe, quality MRIs and CT scans that are also cost-effective. The evaluation process is guided by the Triple Aim Initiative established by the Institute for Health Improvement (IHI). This initiative focuses on the optimization of health system performance using the following dimensions:
Improving the patient experience of care (including quality and satisfaction)
Improving the health of populations
Reducing the per capita cost of health care
Stay tuned for news and updates in the near future!
Pre-authorization Required for IOM Services
Intraoperative Neurophysiologic Monitoring (IOM) procedures are used to observe neural pathways during surgeries with increased risk for nervous system injury. Because there is limited evidence routine IOM can prevent damage in certain surgeries with increased risk for nervous system injury, IOM procedures require pre-authorization.
Due to quality and safety concerns, remote IOM (from an off-site location) and associated monitoring services are not covered. If a provider chooses to use remote IOM, the patient will incur the total expense of the service.
See this and all Medical Coverage Policies at QualChoice.com.
Changes Coming to Member Explanation of Benefits (EOB)
To improve member communications, QualChoice is making these changes to member statements (EOBs):
Periodic EOBs will be sent out every 14 days based on oldest service paid.
EOBs will contain multiple services from different providers during the 14 day period.

If a payment is made to a member, the 14-day period will be disregarded and an EOB immediately issued.

Service Descriptions are easy to read and understand.
The accumulator will be displayed in the "Your Benefits" section of the EOB.
Alerts and Reminders
New Limits on Short-Acting Opioids
Effective December 1, 2017, QualChoice will implement limits on the number of Morphine Milligram Equivalents (MME) a member can receive at any given time of a Short-Acting Opioid (SAO) medication (brand or generic).
These limits are based on The Centers for Disease Control (CDC) Guideline for Prescribing Opioids for Chronic Pain–2016. Note:  We will not limit quantity if an oncology drug is found in the last 360 days of a member's Rx profile.
There will be separate limits on SAOs for:
Members Who Are New to Therapy
Members who have NO opioid in their last 120 days of Rx claims history will be limited to a maximum of 49 morphine-equivalent mg per day of an opioid medication per fill, maximum 7-day supply, and 2 fills within a 60-day timeframe.
Members Who Are NOT New to Therapy
Members who DO have opioid fills in their last 120 days of Rx claims history will be limited to a maximum of 90 morphine-equivalent mg per day of an opioid medication per fill, and subject to 2 fills within a 60-day timeframe.
If clinically necessary, pre-authorization may be pursued for doses above the CDC recommended limits.  Criteria will require one of the following:
Diagnosis of cancer OR
Patient is receiving end-of-life care OR
All of the following:

An active treatment plan including, but not limited to, a specific treatment objective and the use of other pharmacological and non-pharmacological agents for pain relief as appropriate AND
A signed informed consent document and an addiction risk assessment AND
A written/signed agreement between prescriber and patient addressing prescription management, diversion, and the use of other substances.
To request pre-authorization, call OptumRx at 1.877.629.3118.
PCP Assignment and Specialist Claims
All members of QualChoice individual metallic plans (Bronze, Silver, Gold, Platinum and Catastrophic) were required to choose a primary care provider in 2017, and this policy will continue in 2018. Members who do not choose a PCP will be assigned one based on their claims history, but will be allowed to change their PCP if needed. Members who have not seen their assigned PCP will be placed in an unassigned PCP status. Before seeing these members, specialists will need to refer them to PCPs.
QualChoice individual metallic plan members have a unique card: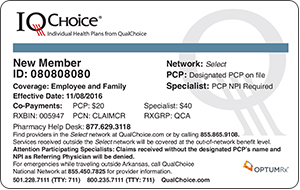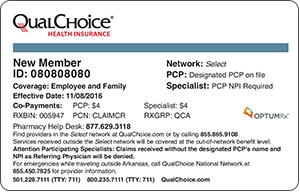 Rosters of newly assigned members are available through My Account. Specialists and PCPs may refer to PCP Required for Individual Plan Members for additional information and instructions.