Alerts and Reminders
CPC+ Contracts Mailed
The Centers for Medicare & Medicaid Services (CMS) five-year CPC+ multi-payer model began in January 2017. Arkansas has been chosen as one of 14 regions nationally to participate.
Participating payers include Medicare, Arkansas Medicaid, Arkansas Blue Cross and Blue Shield, QualChoice Health Insurance, Arkansas Health and Wellness Solutions, HealthScope, and Arkansas Superior Select.
CPC+ integrates many insights from the original CPC initiative, including practice readiness, aligned payment reform, actionable performance-based incentives, and robust data sharing. It will allow providers to select either Track 1, similar to the original CPC program, or Track 2, which offers higher payments for practices that provide comprehensive care for patients with more complex needs. It offers an innovative payment structure to support providers' ability to deliver high-value and high-quality care.
QualChoice is pleased to take part in this improvement initiative, and will join the program as a participating payer on April 1, 2017. Contracts were mailed in mid-February to CPC+ enrolled providers, who are asked to sign and return the contracts no later than March 15, 2017 in order to participate with QualChoice in the program.
For general questions about CPC+, visit the Centers for Medicare and Medicaid Services.
Using the Correct Request Form
Only a Request for Reconsideration form will be accepted for claims reconsideration for members enrolled in QualChoice health plans. NOTE: A request submitted on the wrong form will not be reviewed.
These are the reasons listed in Section IV of the Request for Reconsideration form for making a reconsideration request:
Previously denied/closed for additional information
Duplicate charges (e.g., multiple charges with same CPT)—Provide medical record documentation.
Global Period Dispute
Payment received for wrong provider or member—Provide details in Comments section.
Duplicate payment received

—

Select Recover Funds or Refund Enclosed.
Claim Check/Claim edit denial (i.e., mutually exclusive, incidental, etc.)—Provide medical record documentation.
Modifier Reimbursement—Provide medical record documentation.
Medical Record Request—When sending requested medical records, attach the QualChoice request letter or provide claim #.
Claims Timely Filing—Provide Acceptance Report from EDI Vendor and demonstration of timely follow-up.
Provider Fee Schedule/Contract Language—Please provide detailed explanation of your reconsideration request in the comments section.
Clinical denials (such as not medically necessary, experimental and investigational, or when claim amounts are provider liability) and should only be handled via the Provider Appeal Form. Clinical denials are not are not eligible for the reconsideration process.
To be reviewed, a request must be submitted on the correct form. To ensure you are using the latest version of a form, download it from QualChoice.com. Select Providers, Forms/Information.
Medical Record Review for HEDIS Reporting
QualChoice is compiling data on 2016 clinical outcomes to demonstrate performance on Healthcare Effectiveness Data and Information Set (HEDIS) standards, which are designed to help consumers compare performance across plans.
Data collection began in February and will continue through mid-May 2017. Information will be collected from individual medical records randomly selected throughout our network.
Advantmed, a medical record retrieval company, will contact provider offices by fax and telephone to collect medical records on our behalf. We have entered into a Business Associate Agreement with Advantmed in accordance with the privacy regulations of the Health Insurance Portability and Accountability Act of 1996 (HIPAA). This agreement allows Advantmed to perform activities involving the use or disclosure of individually identifiable health information on behalf of QualChoice. No separate release from the member is required for providers to comply with this request.
Click here to read the HEDIS notification sent to providers earlier this year.
For any questions or concerns regarding the HEDIS data collection, please contact your QualChoice Provider Relations Representative.
CERiS Review Program FAQs
CERiS currently performs line item facility claim reviews for QualChoice.  CERiS' professional review process identifies errors, unrelated charges, and non-separately billable charges on facility claims for inpatient and outpatient services. 
Identification and removal of Non-Separately Billable Routine Items, Supplies and Services
Facility claims consist of charges for "routine services" and "ancillary services".  If a provider's contract does not specify which items, supplies and services are classified as "routine" or "ancillary", CERiS uses CMS regulations and commercially reasonable industry practices to identify and remove routine service and supply charges that are customarily included in the primary service charge.  This is generally the "Room and Board" fee, for inpatient claims, and the "Procedure" fee or "Operating Room Time", for outpatient claims. 
FAQs
Who is CERiS?  CERiS is an independent facility claim review service.
Why is CERiS reviewing facility provider's itemized bills? QualChoice has a fiduciary duty to review all claims for accuracy. The facility claim review service provided by CERiS, identifies errors, duplicate charges, and non-separately payable routine services and supplies, including equipment, nursing functions and medical surgical supplies. The CERiS facility claim review program is a review of the itemized bill provided by the facility.
Do CMS regulations apply to a commercial contract with QualChoice? If so, how? Yes. CMS' Provider Reimbursement Manual (PRM) §2203 requires that a hospital have an established charge structure that is applied consistently for all patients and in claim submissions to ALL payers. Accordingly, as long as a hospital accepts Medicare patients, charges for all of its patients (Medicare and non-Medicare) will be subject to this uniformity requirement. QualChoice reimbursement policy requires conformity and compliance with CMS regulations, including the uniformity of billing requirement and cost allocation for routine services and supplies, per §2202.6. Any individual facility charges disallowed by CERiS are identified specifically in accordance with CMS' published billing guidelines.
Stay Connected! Sign Up for My Account
The original provider portal will soon be unavailable.To maintain access to your QualChoice account, please sign up for the My Account portal.
The My Account provider portal is streamlined and easier-to-read. It's also mobile-friendly, letting providers access their accounts on the go! Register now to access the My Account provider portal pages! View the step-by-step video here Using My Account.
Some of the functions of My Account include:
Checking member eligibility and benefits
Searching and viewing claims and RAs
Searching and viewing referrals and pre-authorizations
Generating useful reports
Providers previously registered at QualChoice will be asked to update their account and select a new password (your username will not change).
Individual Metallic Plan Members Must Have PCP
Beginning January 1, 2017, all members of QualChoice individual metallic plans (Bronze, Silver, Gold, Platinum and Catastrophic) were included in the Select network and were required to choose a PCP. Members who did not choose a primary care provider were assigned one. These members have a unique QualChoice card: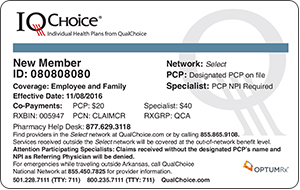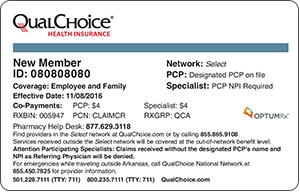 Rosters of newly assigned members are available through My Account under the Provider Reports tab. Specialists filing claims for these members will be required to submit the referring PCP's name and NPI # when billing for services with POS codes 11, 12, 17, 19, 22 and 24. PCP name and NPI are NOT required for POS codes 20, 21, 23 and 81.