Provider Manual
ACA Grace Period for subsidized members
The ACA Grace Period requirements will directly affect your payments for services, and may impact how you run your practice. Read more on how QualChoice will apply and implement the grace period.
ACA Preventive Health Services
We believe that a well-designed, evidence-based health maintenance program is important to the long-term health of our members. We follow the recommendations of the US Preventive Services Task Force (USPSTF) of the Agency for Health Care Research and Quality in the Department of Health and Human Services to determine what tests and examinations are appropriate as preventive or screening services. Also, immunizations are covered based on the recommendations of the Advisory Committee on Immunization Practices (ACIP) as interpreted in our immunization policies.
In addition to the standard wellness benefits, the federal Affordable Care Act (ACA), addresses preventive services. The preventive services component of the law became effective September 23, 2010. The law requires all "non-grandfathered" health plans to cover preventive medicine services given an "A" or "B" recommendation by USPSTF. For detailed information, see Preventive Health Benefit policy (BI062).
Task Force recommendations are graded on a five-point scale (A-E), reflecting the strength of evidence in support of the intervention.
Grade A: There is good evidence to support the recommendation that the condition be specifically considered in a periodic health examination.
Grade B: There is fair evidence to support the recommendation that the condition be specifically considered in a periodic health examination.
Grade C: There is insufficient evidence to recommend for or against the inclusion of the condition in a periodic health examination, but recommendations may be made on other grounds.
Grade D: There is fair evidence to support the recommendation that the condition be excluded from consideration in a periodic health examination.
Grade E: There is good evidence to support the recommendation that the condition be excluded from consideration in a periodic health examination.
Those preventive services listed as Grade A and B recommendations are covered under preventive health benefits as specified in the member's plan documents. For most plans, these services will be covered without cost sharing (i.e., deductible, coinsurance, or co-payment) by health plans for services provided by an in-network provider (for these plans, preventive services are not covered if provided by an out of network provider). If the primary purpose for the office visit is other than a Grade A or B USPSTF preventive care service, deductible, coinsurance, or co-payment may apply. (Rev. 2/2015)
Women's Preventive Services
Effective August 1, 2012, for certain employer-sponsored health insurance plans and January 1, 2013 for certain individual health plans.
Well-woman visits: Annual well-woman preventive care visit for adult women to obtain the recommended preventive services, and additional visits if women and their doctors determine they are necessary.
Gestational diabetes screening: For women 24 to 28 weeks pregnant, and those at high risk of developing gestational diabetes.
HPV DNA testing: Women who are 30 years of age or older will have access to high-risk human papillomavirus (HPV) DNA testing every three years, regardless of pap smear results.
STI counseling and HIV screening/counseling: Sexually active women will have access to annual counseling on HIV and sexually transmitted infections (STIs). This is typically part of the annual well-woman visit.
Contraception and contraception counseling: Coverage of prescription contraceptives on the drug list (brand contraceptives may have a co-payment if a generic is available without a co-payment), sterilization procedures and patient education and counseling. Emergency contraceptives, such as Plan B (morning-after pill) are covered. Any drugs used to cause abortion (e.g. RU 486) are not covered. Over-the-counter birth control methods, even if prescribed by a doctor, are not covered.
Breast feeding support, supplies and counseling: Pregnant and postpartum women will have coverage for lactation counseling from applicable health care providers. Manual breast pumps are covered at no cost share; electric breast pumps and supplies are covered under standard DME cost share and annual limits. See Breast Pump Policy BI349. NOTE: Pregnancy services including prenatal, delivery and postnatal care are subject to member co-payments, deductibles and coinsurance.
Domestic violence screening: Screening and counseling for interpersonal and domestic violence will be covered for all women. This is typically part of the annual well-woman visit.
Self-Funded Plans
Self-funded plans may have different preventive health benefits. Please log-in to the My Account provider portal at QualChoice.com to review member eligibility and plan information. Group specific policy will supersede this policy when applicable.
Limitations
We cover preventive health services as detailed in the member's health benefit plan coverage document. The limit on the preventive benefit may vary from plan to plan. Physicians should be aware that any additional services not covered under the preventive benefit rendered at the time of a preventive visit will be paid under the medical benefit for these members. This means that careful and conservative use of this benefit is essential to be sure that all patients receive the maximum benefit from this coverage. Patients will appreciate understanding their financial commitments before the extra tests are performed. Claims for services that are not a part of the coverage policy for "non-grandfathered"/PPACA Preventive Services will be provider write-offs if billed for screening. These claims will not be a member liability if billed with a preventive diagnosis unless the ordering provider has obtained a signed waiver from the member specifically stating why the requested service would not be covered.
QualChoice is not required to provide coverage for preventive services when delivered by out-of-network providers.
Preventive health benefits are intended for the early detection and/or treatment of diseases by screening for their presence in an individual who has neither symptoms nor findings suggestive of those diseases. For example, tests performed for the following reasons are not considered to be screening tests:
Investigating a symptom
Investigating an abnormal finding
Testing to rule out or confirm the presence of a diagnosis suggested by symptoms or abnormal findings
Testing to assess the status or progress of a diagnosed problem
Testing to check for the recurrence of a disease previously diagnosed and treated, such as colonoscopy in a member who has previously been diagnosed with colonic polyps.
Some items are not covered under the preventive health benefit such as specific codes, over-the-counter medications and some testing.
The cost of drugs, medications, equipment, vitamins/supplements that are recommended but not prescribed for preventive measures are generally not covered as a preventive health benefit (i.e., aspirin, folic acid, iron and cholesterol lowering drugs, etc.).
Many diagnostic examinations are not covered under the preventive health benefit because their effectiveness as screening tests has not been demonstrated. If these tests are billed with a diagnosis code indicating that they are being performed as screening examinations, they will be denied as not medically necessary — which will preclude billing the member for the test. If they are billed with a diagnosis indicating that the test is done for diagnostic reasons, it will be covered under the medical benefit, with the member required to meet contractual payment requirements.
See Preventive Health Benefit medical policy for full details. The policy also contains coding for both ICD-10 and CPT or HCPCS codes.
Coding for Preventive Services
Services must be billed with "preventive" diagnosis codes to qualify to be covered as preventive services. Use CPT codes 99381-99397, appropriate for age and status of patient (new or established) to bill for a periodic preventive or health assessment visit with the primary reason for the visit in the first position on the claim. You must include the applicable wellness/preventive diagnosis code as the primary reason for visit when using CPT Codes 99401-99404. Also, CPT Codes 99401-99404 are considered components of CPT Codes 99386-99387 if billed on the same date of service.
Correctly coding preventive care services is key to receiving accurate payment for those services.
Preventive care services must be submitted with an ICD-9 code that describes encounters with health services that are not for the treatment of illness or injury. Avoid using general coding.
These diagnosis codes must be identified as the primary diagnosis code on the claim form.
If claims for preventive care services are submitted with diagnosis codes that represent treatment of illness or injury as the primary (first) diagnosis on the claim, the service will not be identified as preventive care and the claims will be paid using the member's normal medical benefits rather than enhanced preventive care coverage.
Use CPT coding designated as "Preventive Medicine Evaluation and Management Services" to differentiate preventive services from problem-oriented Evaluation and Management office visits (CPT codes 99381-99397, 99461, 99401-99404, S0610, S0612 and S0613). Non-preventive care services incorrectly coded as "Preventive Medicine Evaluation and Management Services" will not be covered as preventive care.
See Preventive Health Benefit for detailed instructions about how preventive benefits are paid.
Arkansas Health Care Payment Improvement Initiative (AHCPII)
The Arkansas Health Care Payment Improvement Initiative (AHCPII) is working to transform the structure of the state's health care system to increase the quality of care while controlling unsustainable cost growth. One component of AHCPII is a new reimbursement methodology created to reward providers who consistently deliver high quality, coordinated, cost-effective care to patients. AHCPII is a collaborative effort among QualChoice, Arkansas Medicaid, and Arkansas Blue Cross and Blue Shield. Click here for more information about AHCPII.
How It Works
While the private payers (QualChoice and Arkansas Blue Cross) have joined with the public agencies (CMS and Arkansas Medicaid) to work on developing a common approach to assessing, tracking and promoting quality and cost efficiency, each private payer independently determines its own episode implementation and specific reimbursement and policies that may result from the broader, government-sponsored initiative.
QualChoice will publish periodic reports through a provider portal to allow Principal Accountable Providers (PAPs) to monitor quality, cost, and utilization. PAPs can download their historical performance reports to help them understand their current practice patterns and the financial and quality outcomes they generate.
Our Provider Relations staff will work with providers to help identify opportunities for improved alignment with the new payment methodology.
Following each designated performance period, the payer involved will reconcile the results of the episodes completed during that period against previously established and communicated cost thresholds and quality metrics. If the PAP meets or exceeds the target metrics, an additional incentive will be paid. If performance falls short of the targets, risk amounts will be adjusted according to the Provider Agreement.
Read here for more information or to link to the provider portal. You can also contact a Provider Relations Representative at 501.228.7111 or 800.235.7111, ext. 7004.
Key Information
Episode of Care is a series of medical services provided to a patient to treat a particular condition over a defined period of time. Follow the links below for further information on the current definitions of the episodes of care.
Total Hip Replacement

Total Knee Replacement

Perinatal

Cholecystectomy
Principal Accountable Provider (PAP) is the provider who holds the main responsibility to ensure care is delivered at appropriate quality and cost. PAPs will be eligible to share in the savings and excess costs of episodes based on the overall quality and cost during the episode period. A provider must perform a minimum number of episodes in order to be held accountable for savings and excess costs. Follow the links above to review the PAP for each episode of care.
Quality Measures help ensure proper care is not withheld from patients in order to meet cost thresholds. Each episode of care is designed to incentivize high quality, coordinated, and cost effective care. An important aspect of each episode is defined quality measurement. In order for each PAP to share in upside savings, the defined quality measures for each episode of care must be met. Quality measures will be collected through claims based data and/or self-reporting through the AHIN provider portal. PAPs will receive periodic reports highlighting their performance on measures related to each episode of care. Follow the links above to review the defined quality measures for each episode of care.
Episode Exclusions are certain episodes that can be excluded from reporting and PAP accountability for savings or excess costs to protect the PAP from episodes that have a high level of patient risk and/or severity. Episodes will also be excluded if there is coordination of benefits with another payer or if the member does not have continuous enrollment with QualChoice during the episode. Follow the links above to review the clinical reasons for an episode exclusion.
Claims Submission and Reimbursement for all episodes of care will be the same as defined in your Provider Agreement and outlined in the Provider Manual.
Compensation will be paid for covered medical services based on current Provider Agreements with QualChoice. PAPs may be eligible for additional compensation or may be required to refund compensation based on their performance under the episode during the defined time period. Additional compensation or refunding excess costs will be calculated by comparing the average episode cost of the PAP to the average episode cost of all PAPs for each specific episode of care. If sharing of savings or excess costs is indicated, QualChoice and the PAP will split the total excess 50/50. The PAP's total gain share will not exceed an amount equal to 100% of the amount paid directly to the PAP by QualChoice for all applicable episodes of care within the defined time frame. The PAP's total refund amount will not exceed an amount equal to 100% of the amount paid directly to the PAP by QualChoice for all applicable episodes of care within the defined time frame. For purposes of conducting the calculations for additional compensation or refunding excess costs, the PAP shall perform no less than the minimum number of episodes per the episode definition during the defined time frame. For PAPs who qualify for additional compensation per the terms of the program, the additional payment will be made within 180 days after the end of the defined time period. For PAPs who are required to refund excess costs per the terms of the program, the adjustments will be made according to your Provider Agreement. Below is an example of how QualChoice will calculate additional compensation or excess costs.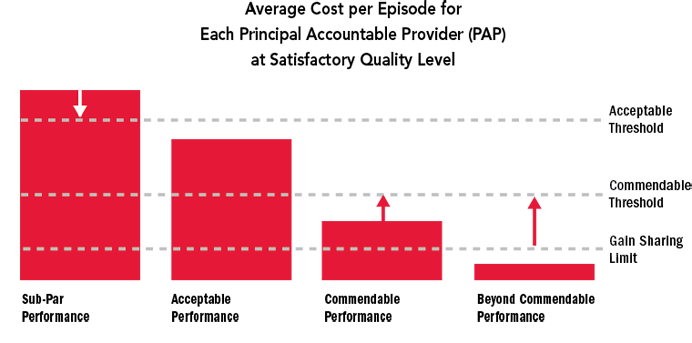 | | |
| --- | --- |
| Sub-Par Performance | Providers whose costs exceed the acceptable threshold will be held responsible for a share of costs above this threshold — shown by the arrow above. |
| Acceptable Performance | The provider neither gains nor loses because costs are neither above nor below the commendable threshold. |
| Commendable Performance | Savings below the commendable threshold — shown by the arrow above — are shared between provider and payor, until the gain sharing limit is reached. |
| Beyond Commendable Performance | The provider will receive a share of savings up to a gain sharing limit, but not beyond. |
Reconsideration Process provides the PAP a procedure by which QualChoice will reconsider the initial determinations of inclusion of certain claims, certain patient events, or of efficiency or quality ratings within the episode payment reports. If a PAP disagrees with any findings on that provider's report, a written challenge of the report may be made within 45 days of its publication. The PAP should submit a written challenge including the name of the patient, the episode of care in question, and the specific explanation of the way in which the provider contends the report is in error, as well as any clinical information that supports the challenge. This challenge must be sent in writing, via certified mail, addressed to:
QualChoice
ATTN: Episodic Payment Review
12615 Chenal Parkway, Ste. 300
Little Rock, AR 72221
The QualChoice Episode Payment Review Committee will review the information provided and respond to the provider in writing. The decision of QualChoice will be final.
If a provider has questions or concerns about procedure codes used to determine episodes or include claims in episodes, in other words, about the episode policy, the provider should contact the QualChoice Medical Director to request a policy revision. In that case, the request will be reviewed at the next regular meeting of the Episode Definition Committee, and a determination will be made about revision of the episode. Changes in episode definitions will not be made retroactive, and will not affect previously published reports or currently active episodes.
For questions or concerns about gain sharing or cost sharing, contact a Provider Relations Representative to review the compensation policy.