We are dedicated to providing excellence and quality in our products and services. To demonstrate that commitment, QualChoice is audited and accredited by leading independent organizations dedicated to improving quality and excellence through evaluation.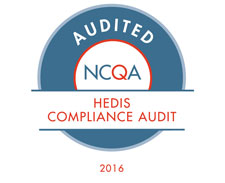 NCQA
NCQA is an independent, not-for-profit organization dedicated to assessing and reporting on the quality of managed care plans, managed behavioral health care organizations, preferred provider organizations, new health plans, physician organizations, credentials verification organizations, disease management programs and other health-related programs.
HEDIS is a set of standardized performance measures, designed by NCQA, to ensure that purchasers and consumers have the information they need to reliably compare health care quality.
URAC
An independent, nonprofit organization, URAC is a well-known leader in promoting health care quality through its accreditation, education, and measurement programs. URAC offers a wide range of quality benchmarking programs and services that model the rapid changes in the health care system and are a mark of excellence for organizations who wish to validate their commitment to quality and accountability. Through its broad-based governance structure and an inclusive standards development process, URAC ensures that all stakeholders are represented in establishing meaningful quality measures for the entire health care industry. For more information, visit www.urac.org.
QualChoice currently holds the following URAC Accreditations: